December 31, 2011
2011 A Year Past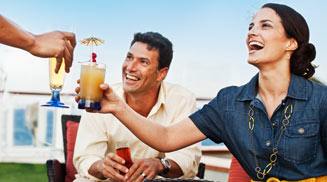 As 2011 ends, a new year with so many possibilities begins. I must admit that the thought of starting over in January sounds good to me!
My daily job is to help people choose the right cruise ship for their vacation and make sure the booking process is easy. I enjoy helping them plan their dream trip and making it a vacation they look back at fondly.
Over the years I have received many cards, gifts and emails of thanks. It is those days that I am most happy with my job. It means all the work I've done was for good.
In 2012 I want to take more time to enjoy the little things in life. What do you want in 2012?
I wish you all a happy and healthy new year with at least one great vacation! :)
Yours Truly, Denise Blackmore
Posted by Denise at
04:07 PM
|
Comments (0)
December 07, 2011
Celebrity Cruises New Ship: Celebrity Reflection
Celebrity Cruises newest ship is almost ready for bookings! Celebrity Reflection is a ship currently being built and Celebrity Cruises is annoucing bookings available for Captain's Club members today, December 7th, and for the general public December 12th.
With Celebrity Reflection, they will be introducing a whole new level of modern luxury. Say hello to the new Reflection Suite and Signature Suites - both are located in a private area accessible only to guests staying in these suites. If you are a Captain's Club member, you'll have the privilege of booking one of these suites 5 days before they're available to the general public on December 12, 2011!
The Reflection Suite includes these extraordinary features:

First two bedroom in the fleet (accommodates up to six guests)

Premium Reverie mattress with the ground-breaking Reverie Dream Sleep System. The iPad and the Reverie remote app act as a remote control that allows guests to easily operate their lights and television in the stateroom, massage features and elevation of the mattress.

Sea-view bathroom extending out over the edge of the ship

Veranda tub with soothing rain shower

Floor-to-ceiling sliding veranda doors to maximize views

Corner location with panoramic views
Signature Suites feature:

Accommodations for up to four guests

Premium Reverie mattress with the ground-breaking Reverie Dream Sleep System with Made for iPad technology

Higher ceilings than standard suites, with floor-to-ceiling windows to maximize views
For more information or to book a cruise contact a Celebrity Five Star Agent at Cruising2Alaska.com #1-800-738-8837.
View Cruise Specials to Europe with Celebrity Cruises!
View Cruise Specials to Alaska with Celebrity Cruises!
Posted by Denise at
03:29 PM
|
Comments (0)
December 03, 2011
Readers Name MSC Cruises a Repeat Winner for ?Best Onboard International Experience? in Annual Porthole Poll
FORT LAUDERDALE, Fla. (Nov. 28, 2011) - For the second year in a row, MSC Cruises has received Porthole Cruise Magazine's Readers' Choice Award for "Best Onboard International Experience."
For the 13th consecutive year, readers of Porthole Cruise Magazine, a leading cruise publication, voted via mail, fax and online in a variety of categories.
"With a great mix of guests, cuisine and entertainment on board, MSC Cruises offers a unique international ambience," said Bill Panoff, publisher and editor-in-chief of Porthole Cruise Magazine. "Our readers who have experienced the product clearly recognize this, and I congratulate MSC on its win."
"This award is especially significant because it was decided by the magazine's readers - our guests. It is rewarding to know that our guests continue to recognize and enjoy the unique international flavor of an MSC Cruises experience," said Richard E. Sasso, president and CEO of MSC Cruises (USA), Inc.
"MSC Cruises has always prided itself on the international experience we offer our guests, from the cuisine and entertainment to the crew and overall ambiance, whether they cruise with us in the Caribbean, Canada/New England, Mediterranean, Northern Europe, South Africa or South America," Sasso said.
For more information about MSC Cruises, contact an MSC Cruise Specialist at Cruising2Europe.com #1-800-738-8837.
Posted by Denise at
11:55 AM
|
Comments (0)