ROYAL CARIBBEAN AND USA TODAY KICK OFF "REPORTERS AT SEA: FAMILY STYLE" CONTEST
Contest Invites Families to Try Their Hand As 'Reporters At Sea' Aboard Cruise Line's Newest Ship, Allure of the Seas

MIAMI (September 22, 2010) - Calling all families! Royal Caribbean International and USA TODAY announced today a search for America's best and brightest family to cover the unveiling of Allure of the Seas, which will share the title of the world's largest and most revolutionary cruise ship along with sister ship, Oasis of the Seas. Today through October 29, 2010, families are invited to enter to win the coveted role of field correspondents alongside USA TODAY'S own cruise editor, Gene Sloan. Once onboard the ship, the lucky winning family of up to six will receive behind-the-scenes access to file reports that will appear at USA TODAY's Cruise Log about one of the most buzzed-about hospitality and entertainment stories of the year.

While embarking on a four-night preview sailing, the winning family will enjoy a behind-the-scenes look at The DreamWorks Experience featuring the "How To Train Your Dragon On Ice" show, an aqua show featuring "Madagascar", character breakfasts, activities for the kids in Adventure Ocean, character meet-and-greets, parades, sail-away parties, 3D films in the ship's 3D theater, as well as backstage access to Chicago: The Musical. In addition to the United States, the "Reporters at Sea: Family Style" contest is searching for family journalists in Canada, Germany, Italy, the United Kingdom, Spain, South Korea, China and Venezuela.

Reporters-to-be can audition for the assignment of a lifetime by submitting a creative video of 45 seconds or less in length and no more than 100 MB in size at www.allureoftheseas.usatoday.com. The video should showcase the family's best reporting skills and tout why Royal Caribbean should select them to be USA TODAY's correspondents onboard Allure of the Seas. Videos will be judged on the entrants' ability to entertain, as well as effectively bring to life and clearly explain innovative and imaginative travel or cruising concepts.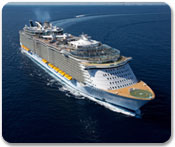 Once the entry period ends, judges will select three finalists per country, and Americans will vote for their favorite U.S. video between October 15 and October 29, 2010. Multiple generations are encouraged to enter. The individual who enters the contest on behalf of his or her family must be 18 years of age. Winning families of up to six members from each country will be simultaneously announced on November 15, 2010, and will be flown to Fort Lauderdale, Florida, to cover two exclusive preview cruises onboard Allure of the Seas from November 19 to November 23, 2010.

Allure of the Seas shares the title of the world's largest and most revolutionary cruise ship with its sister ship, Oasis of the Seas. An architectural marvel at sea, she will span 16 decks, encompass 225,282 gross registered tons, carry 5,400 guests at double occupancy, and feature 2,700 staterooms. Allure of the Seas will tout Royal Caribbean's exclusive neighborhood concept of seven distinct themed areas, which will include Central Park, Boardwalk, the Royal Promenade, the Pool and Sports Zone, Vitality at Sea Spa and Fitness Center, Entertainment Place and Youth Zone. The ship will alternate a Western Caribbean with an Eastern Caribbean seven-night itinerary from her home port of Port Everglades in Fort Lauderdale, Fla. Additional information is available at www.AllureoftheSeas.com.

The Reporters at Sea: Family Style contest builds on the success of last year's Reporter at Sea contest, in which winners from five countries reported individually about the launch of the groundbreaking Oasis of the Seas. For more information about the Reporters at Sea: Family Style contest, how to enter and vote, the official rules and details on the prize, please visit www.allureoftheseas.usatoday.com.

Royal Caribbean International is a global cruise brand with 20 ships currently in service and two under construction. The line also offers unique cruise tour land packages in Alaska, Canada, Dubai, Europe, and Australia and New Zealand. For additional information or to make reservations, call a Royal Caribbean WOW Specialist at Cruising2Paradise.com #1-800-738-8837.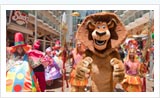 USA TODAY is a multi-platform news and information media company. Founded in 1982, USA TODAY's mission is to serve as a forum for better understanding and unity to help make the USA truly one nation. Today, through its newspaper, website and mobile platforms, USA TODAY connects readers and engages the national conversation. USA TODAY, the nation's number one newspaper in print circulation with an average of more than 1.8 million daily, and USATODAY.com, an award-winning newspaper website launched in 1995, reach a combined 5.9 million readers daily. USA TODAY is a leader in mobile applications with more than five million downloads on mobile devices. The USA TODAY brand also includes USA TODAY Education and USA TODAY Sports Weekly. USA TODAY is owned by Gannett Co., Inc. (NYSE: GCI).
Posted by Denise at
10:20 AM
|
Comments (0)