Pop2Life sets the stage for "The Allure of Taylor Swift" Onboard Royal Caribbean's Allure of the Seas
Creative Marketing & Promotion Company Presents Special Performance Onboard the World's Largest and Most Revolutionary Cruise Ship
October 21, 2010 (New York, NY) - While global audiences eagerly await Taylor Swift's third album Speak Now, launching on Monday, Oct. 25, 2010, dedicated fans also can look forward to seeing Taylor Swift perform live onboard the world's newest and largest ship. The four-time Grammy award-winner Taylor Swift will perform onboard Royal Caribbean International's highly anticipated Allure of the Seas in the ship's signature AquaTheater, an amphitheater-style space with an ocean view, on Friday, Jan. 21, 2011. To date, the first single released from Speak Now, entitled "Mine," has sold more than 1 million copies.
Big Machine Records, Clear Channel Radio, Pop2Life and Royal Caribbean International are banding together to give 100 lucky winners (and their invited guests) access to a rare performance by Taylor Swift and an unparalleled cruise vacation onboard Allure of the Seas, seven-night Western Caribbean cruise, Sunday Jan. 16 - Jan. 23. Debuting December 1, Allure of the Seas will share the title of the world's largest and most revolutionary cruise ship with sister-ship Oasis of the Seas, and boast Royal Caribbean's unique neighborhood concept - seven themed areas providing guests with the opportunity to seek out a variety of relevant experiences based on their personal styles, preferences or moods. The ship also will bring to life one-of-a-kind onboard entertainment, including a DreamWorks experience complete with parades, ice shows and a "Madagascar" themed AquaTheater show, in addition to the Broadway hit "Chicago: The Musical." Additional perks of this grand prize for Taylor enthusiasts and their guests include VIP seating in the AquaTheater for the concert, a special welcome reception onboard Allure of the Seas, roundtrip flights and transportation to the ship's homeport of Port Everglades in Fort Lauderdale, Fla., as well as the coveted confirmed accommodations for Allure's one-of-a-kind vacation.
To enter "The Allure of Taylor Swift" radio and online sweepstakes, listeners need to tune-in to participating Clear Channel radio stations across the country, weekdays, Monday, Oct 18 - Friday, Oct. 29; pay attention for the "The Allure of Taylor Swift" keyword; and submit the keyword via text message or online at the local station's Web site. National radio show "On Air with Ryan Seacrest" is also rallying audiences for this one-of-a-kind concert and inviting hopeful concert-goers to enter online at www.ryanseacrest.com, Monday, Oct. 18 - Sunday, Oct. 24. Lastly, consumers can enter online at www.TheAllureofTaylor.com. Fans wanting to book their Taylor Swift experience aboard Allure of the Seas' January 16th sailing, can visit www.royalcaribbean.com and click on "The Allure of Taylor Swift" banner, or call (877) 722-5266. Complete list of participating stations is available at www.theallureoftaylor.com/stations and www.royalcaribbean.com.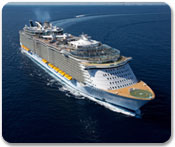 Taylor Swift is a four-time GRAMMY winner, the top-selling digital artist in music history, has had singles top both the Country and Pop radio charts, and had the #1 best-selling album in any genre of music in 2009. This year, at the age of 20, she became the youngest artist in history to win the music industry's highest honor, the GRAMMY Award for Album of the Year. Also at the 2010 GRAMMYs, she took home the awards for Country Album of the Year, Best Country Song, and Best Country Female Vocal Performance. Her 6x-Platinum FEARLESS album is the most awarded album in Country music history.
In 2009, she was named Artist of the Year at the American Music Awards, and also became the youngest artist in the 43-year history of the Country Music Association to be awarded country music's top prize when she took home the CMA Award for Entertainer of the Year.
Taylor, whose career record sales now top 13 million albums and 25 million song downloads, just this month set a new Billboard record for the most Top 10 Hot 100 debuts in the chart's history. She also holds the Billboard all-genre records for most first-week downloads by a female artist, for the longest charting album of this century and for most Top 20 debuts in a calendar year, as well as the Billboard record for the largest overall airplay audience for a country-based act.
About Allure of the Seas Allure of the Seas shares the title of the world's largest and most revolutionary cruise ship with sistership Oasis of the Seas. With a cache of new distinct onboard activities and amenities, Allure of the Seas offers one-of-a-kind entertainment performances, culinary concepts, retail venues and technology innovations. An architectural marvel at sea, Allure's neighborhoods are divided into seven distinct themed areas, which include Central Park, Boardwalk, the Royal Promenade, the Pool and Sports Zone, Vitality at Sea Spa and Fitness Center, Entertainment Place and Youth Zone. She spans 16 decks, encompasses 225,282 gross registered tons, carries 5,400 guests at double occupancy, and features 2,700 staterooms. Allure of the Seas alternates a Western Caribbean with an Eastern Caribbean seven-night itinerary from her home port of Port Everglades in Fort Lauderdale, Fla. Additional information is available at www.AllureoftheSeas.com.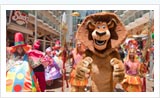 About Pop2Life
With its core business in the entertainment industry, Pop2Life, based in New York City, specializes in creating exciting promotion and marketing initiatives that integrate music, television, radio, movies, sports and other pop culture brands to create unique consumer experiences that drive brand awareness and priceless word-of-mouth buzz. Clients include MTV Networks, Walt Disney Studios Motion Pictures, Clear Channel, Showtime Networks, FOX, Warner Brothers, Comedy Central, CBS Radio, and virtually all of the major record labels. www.pop2life.com.
About Royal Caribbean International
Royal Caribbean International is a global cruise brand with 21 ships currently in service and one under construction. The line also offers unique cruisetour land packages in Alaska, Dubai, Europe, Australia and New Zealand, and South America. For additional information or to make reservations, contact a Royal Caribbean Cruise Specialist at Cruising2Paradise.com #1-800-738-8837.
Posted by Denise at October 26, 2010 11:47 AM