Celebrity Cruises Celebrates Autumnal Equinox by Naming Fifth Ship in Widely Heralded Solstice Class Fleet
In light of the images of sun and shadow conveyed in the names of Celebrity Cruises' stylish Solstice Class ships, the world's top-rated premium brand is marking autumnal equinox by announcing the name of the fifth in its 'Xceptional' series: Celebrity Reflection.
"Selecting the name of the fifth ship in the class led us to reflect back on the significant impact the Solstice Class has had on the cruise industry," said Celebrity's President and CEO Dan Hanrahan. "Our Solstice Class ships offer the finest in premium cruising, with service provided by the best men and women in the hospitality business, as evidenced by the tremendous response from our guests, travel partners and the press, and a continuously expanding series of prestigious awards. There is no question that Celebrity Reflection will deliver an equally outstanding vacation experience for our guests."
Following delivery in November 2012, Celebrity Reflection will join Celebrity Solstice, Celebrity Equinox, Celebrity Eclipse and Celebrity Silhouette, rounding out the $3.7-billion class.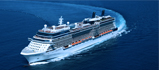 Celebrity Reflection will present vacationers with some new features, yet to be announced, along with many of the hallmarks found on some or all of her sister ships, including:
The hip "Celebrity iLounge" that made Celebrity Cruises the industry's first Authorized Apple Reseller
Uniquely unordinary "Qsine," the first seagoing restaurant to feature a menu and wine list on an iPad, and an engaging food-as-theater dining experience
Celebrity's iconic half-acre Lawn Club, with real, growing grass
Ten unrivaled dining venues, including Qsine
Modern, stylish interiors designed by some of the world's best architects and designers
Hip, cool nightclubs and lounges, including CellarMasters, complete with the industry's first installation of the innovative Enomatic by-the-glass wine serving system
One of the broadest and best wine offerings in the industry, served by one of the world's largest staffs of certified sommeliers
One of the world's largest permanent collections of original contemporary art, and the industry's first self-guided art tours to be presented on an iPad
Widely varied entertainment, including breathtaking aerial acts
The extensive array of entertaining and enriching onboard programming offered through "Celebrity Life," including instruction on the latest iPods, MacBooks and iLife classes; language learning through Rosetta Stone; comparative wine tastings with Riedel Crystal, and enrichment presentations with Smithsonian Journeys Posted by Denise at September 23, 2010 01:43 PM