QSINE by Celebrity Cruises
Celebrity Cruises had a telephone call for travel agents this morning announcing a new restaurant onboard Celebrity Eclipse. This new restaurant is called QSINE. It will launch in April 2010 in Southampton, England.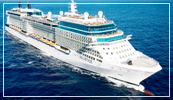 The chef spoke to travel agents this morning and explained that QSINE takes a modern and playful approach to familar dishes around the world! Below is a list of items on the menu . . .
Meatball Trilogy
Sushi Lollipops
Lobster Escargot
BBQ Rib Spring Rolls (served in a spring roll dish)
TresViche
Crunchies Munchies (variety of snacks to nibble on)
Bento Box (array of garnishes filled to dress your cupcakes)
Chitini's (combination of Chinese food displayed in martini glasses)
Slider Party (your own pinic, you assemble sliders to please your palate)
Curriedfull Lamb
Cataplana of the Sea
Disco Shrimp
Popcorn Fish-n-Chips
Lava Crab
M's Delight (variety of 12 different types of meze displayed in a custom-built vetical plate)
Soup & Souffle
Taj Mahal
The concept is interesting and the pictures of the food was amazing. As I was looking at the pictures and hearing the chef describe the food I was so hungry. I can't wait to try this restaurant!
Written By Denise Blackmore, MCC
Posted by Denise at February 24, 2010 10:26 AM