Celebrity Cruises Offers Caribbean Cruises Year-Round
Traveling in the summer every year is a busy time to get away becuase children, and some adults, are out of school. Celebrity Cruises has just announced that they want to make it easier for you to cruise with them. In addition, to offering Alaska Cruises from Seattle, WA and Vancouver, BC they will now offer Caribbean Cruises from Fort Lauderdale, FL. A third home-port for you to drive to or fly to easily!
Now this summer Caribbean cruise is not on just another cruise ship. It's onboard the Celebrity Solstice. This brand new ship came into service last December and has wowed everyone that's stepped aboard. Celebrity Solstice is the largest and most innovative vessel ever to sail for Celebrity Cruises. There are a wealth of dining, spa and entertainment options for guests.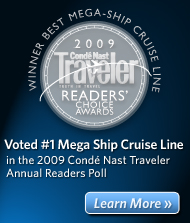 I had the pleasure of cruising on this ship last December to the Eastern Caribbean. There are so many fabulous things I can say about this ship. I loved the modern decor, the lawn club (which is a grass area on top of the ship aft offering lawn bowling), and the AquaSpa is the largest I've seen on any ship . . . with many treatment rooms, the persian gardens (sauna/steam area with heated tile lounge chairs), huge fitness center with many machines and much more!
The entertainment is superb. I liked the late-nite comedy at Celebrity Central. This area feels like a cute comedy club at home. You must see the formal evening shows at the Solstice Theater. It is amazing - singers, dancers, acrobats and more! And they are not just on the stage in front of you, but hanging from the ceiling too.
My favourite part of this ship was the food. I know, I know it's all about the food when you cruise. The two best restaurants onboard, in my opinion, are:

Murano - Celebrity's signature specialty restaurant. It offers excellent service with a large menu of items to choose from (classic & modern continental cuisines). I had to dine here 3 times during my 7 night cruise because I wanted to try so many things. Plus, they have a wine pairing menu at an excellent price. (Cover Charge of $30 US per person)
Bistro On Five - This may surprise you. Many guests onboard the ship didn't even try this restaurant, but it is a must! This restaurant offers crepes, paninis and desserts. If you sleep in late one morning go here for one of many egg crepes or has a causal lunch or dinner with their amazing paninis. Again, I had to visit this restaurant 3 times during my cruise because it was soooo good! It's right across from the Cova Cafe on Deck 5 . . . don't miss it. (Cover Charge of $5 US per person)
There are many other options for your palate. The maing dining room offers 2 meals a day. The Silk Harvest Restaurant offers asian cuisine; yes the sushi is good here! Tuscan Grille offers Italian cuisine and of course the Oceanview Cafe offers buffet-style food 24-hours a day.

Would you like a glass of wine? If you're like me and tired of house wine take a look at the cellar masters. It offers a good selection of wines by the bottle and there's also an area where you can purchase high-end wines by glass.
Or how about a martini? The Martini Bar on Entertainment Deck 5 has a cool vibe with a large selection of Martini's to choose from.
Written By Denise Blackmore, MCC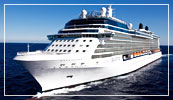 Are you ready to cruise on the Celebrity Solstice? Check out these hot deals . . .
13 Day Trans-Atlantic Cruise Rome to Fort Lauderdale November 30, 2009 From $399 US!
7 Day Eastern Caribbean Cruise Roundtrip Fort Lauderdale November 28, 2010 From $649 US!
7 Day Eastern Caribbean Cruise Roundtrip Fort Lauderdale September 5, 2010 From $899 US!

Posted by Denise at December 1, 2009 11:33 AM