Oasis Has Set Sail!
Lisa Bauer, the Senior VP of Hotel Operations for Royal Caribbean, is onboard the Oasis of the Seas. Over the next two weeks Lisa is onboard the Oasis of the Seas as the ship crosses the Atlantic to North America. Here's what she had to say today . . .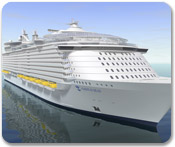 "We set sail! This morning at daybreak, we began our 12 day journey to our new home in Port Everglades. It was a postcard morning, not a cloud in the sky and the sunrise was stunning. It was really the perfect way for Turku, Finland to send off Oasis of the Seas. Everyone had chills, and it wasn't because it was -7C either.
The ship has a really nice vibe. The crew is getting to experience the various venues as we open them up. We plan to open a few outlets a day to give the crew time to practice. Today we officially opened up Sorrento's Pizzeria. It is a great location centrally located on Royal Promenade. There are some great new enhancements in Sorrento's. Guests will be able to "design" their own pizza and pick their own personal toppings. (I'm boring, I did extra cheese and Pepperoni). There are tons of toppings to choose from. In addition to being able to get the traditional slice, guests can also elect to get the whole pie. The other great new change is guests can order the entire pie and then take it with them to go as well. I can just imagine sitting on a balcony in Boardwalk watching the show in the AquaTheatre eating a pizza! The crew did great with the opening today. Lots of smiling faces, and no, I didn?t have the entire pizza, just 2 slices.
We also officially kicked off our daily leadership meeting today. All the division heads from shipboard and shoreside from hotel, marine, and newbuild are providing updates on how the days training went, results of stress tests, and how progress is being made in various areas. The teamwork is really great and these meetings will ensure we keep in close communication during the crossing.
We are opening up Dazzles tonight for the crew, so will have an update on how that went tomorrow!"
View Royal Caribbean Alaska Cruise Deals
View Royal Caribbean Europe & Mediterranean Cruise Deals
View Royal Caribbean Mexico Cruise Deals
View Royal Caribbean Cruise Deals to other destinations
Posted by Denise at November 2, 2009 12:55 PM