10 Reasons to Sail Celebrity Cruises
Celebrity Cruises came up to a list of 10 reasons to sail Celebrity Cruises in the Caribbean. Celebrity Cruises is one of my favourite cruise lines. They offer an exceptional value in cruising with excellent service, spacious well-layed out staterooms with a alarge shore, littles extras onboard like white-glove service, welcome aboard champagne and more. If you've cruised before on another line and then go on a Celebrity cruise you'll know what I mean.
Now that you know my opinion, let's see what Celebrity Cruises has to say . . .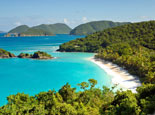 #1 A Caribbean Itinerary For Everyone
Whether you're looking for a seven-night adventure or a 14-night exploration that extends as far as Mexico and South America, we offer many exciting ways to discover the Caribbean while experiencing Celebrity's commitment to service with style. We're also the only premium cruise line to offer guests a private resort sanctuary - Ladabee, on the island of Haiti.

#2 Over 100 New Shore Excursions
The enchantment of the Caribbean extends far beyond these island's pristine beaches. Discover an exhilarating collection of tantalizing sights, sounds, tastes and textures, with shore excursions for every age traveler and every interest.

Treat yourself to a champagne and lobster cruise setting sail from St George's, Grenada.

Experience the islands as the original explorers did, on a tall ship adventure out of Philipsburg, St. Maarten.

Uncover the legends of region's original inhabitants - the Carib Indians - on Roseau, Dominica.

#3 Allow us to indulge you
As you gaze out upon the serene blue waters of the Caribbean, you'll be at peace knowing someone is looking after your every need. Book a suite and enjoy complimentary European-style butler service, a nicety that's exclusive to Celebrity Cruises.

#4 The most attentive service at sea
We don't just meet your needs, we do our best to anticipate your desires - from nightly turndown service to remembering your favorite dessert. With one staff member for every two guests, we're able to ensure that nearly every request is attended to with intuitive efficiency.

#5 Celebrate life with Celebrity
A Caribbean cruise is the perfect way to bring generations together to celebrate any occasion or milestone - from weddings and anniversaries to family reunions.

#6 Concierge Class
Yet one more Celebrity exclusive From the moment you arrive onboard, the comforts and amenities of our Concierge Class staterooms will envelop you.

Plush veranda accommodations rival any other staterooms at sea.

Enjoy priority embarkation and a celebratory bottle of champagne to commemorate your departure.

Choose a pillow from our extensive menu and spend each night in blissful comfort.

Revel in details like daily deliveries of fresh fruit, hors d'oeuvres, and fresh cut flowers.

#7 Experience "Celebrity Life"
A new series of palate-pleasing, intellectually-enriching and life-enhancing programs designed to deliver the most unique and sophisticated onboard experience in premium cruising.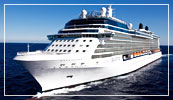 #8 Travel onboard the World's Highest Rated Fleet
Celebrity Cruises consistently ranks among the Top 5 Large Ships Category for the 9th year in a row. (Conde Nast Traveler Cruise Poll 2001-2009)

#9 Always in good taste
Let Celebrity tantalize your palate with our award-winning cuisine. Prepared by renowned chefs, our culinary delights are made from scratch using only the finest ingredients.

New menus throughout each ship including our specialty restaurants.

New presentations for our sushi bars, snack bars, and themed restaurants, including expanded offerings made just for kids.

Revamped room service, including the kids' meals that can be delivered to their stateroom while the adults enjoy dinner on their own or a nightcap at the Martini Bar.

#10 An onboard world of wonder for kids
Discover a wealth of fun for toddlers through teens, with XClub programs divided by age so kids will always be entertained. And to ensure the voyage is an enriching one for younger travelers, we've developed an exclusive partnership with Leapfrog Schoolhouse to offer Leapfrog Edutainment.
Sounds good right? To start looking at a Celebrity cruise vacation for yourself view our specials below.
View Celebrity Cruises Alaska Cruise Specials
View Celebrity Cruises Europe & Mediterranean Cruise Specials
View Celebrity Cruises Canada/New England Cruise Specials
View Celebrity Cruises Alaska Cruisetour Specials
View Celebrity Cruises Europe & Mediterranean Cruisetour Specials
Written by Denise Blackmore
Posted by Denise at October 25, 2009 03:12 PM