Oasis of the Seas Update
Richard D. Fain, Chairman and CEO for Royal Caribbean Cruises Ltd. announced this morning on his blog that crew members are boarding the new Oasis of the Seas! That means the ship is almost ready . . . read on.
"Business is up at Turku airport. The last of our crew are arriving in Turku today and have been greeted by the first snow of the season. All told, the base crew will be 2,165 people; already over 2,000 crew members are onboard and are beginning to get oriented with the ship. Because the ship is so different and has so many features and amenities, our operating people have gone to extraordinary lengths to prepare this team in advance. That preparation includes a dedicated website for all incoming crew members, orientation booklets, classroom training, online training, etc. They even produced a book of puzzles including crosswords, word searches, etc. All the answers relate to special features of the ship.
And then there were the special training and orientations. As noted in my previous blog the performers for the Opal Theatre have done extensive rehearsals at our studios in Hollywood, Florida. The divers, acrobats and swimmers in the AquaTheatre have an even more daunting task. They have to prepare for a new set of shows in a venue - the AquaTheatre - which is a first of its kind anywhere. Over the last several months, they have gone through exhaustive rehearsals at the Swimming Hall of Fame located in Fort Lauderdale. Their shows are clearly going to be extraordinary, but it is difficult to rehearse when the actual theatre will be so different.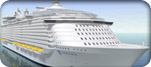 I know they are looking forward to being able to go onboard and experience the real thing. Compounding the problem is that it is cold in Finland and the AquaTheatre is an outdoor venue. That means they are limited in what they can practice until the ship gets into warmer waters early next month. We expect the AquaTheatre pool will be available for rehearsals starting next week which gives them little time to set up and practice their performances. Nevertheless, we hope to be able to give at least a small taste of the first shows during the preview cruises.
Work also continues here in Florida preparing for the ship's arrival and installation of the plant life."
Want to cruise on this amazing new ship? Book between October 24 and November 2 to receive $100 US Onboard Credit Per Stateroom! Applicable sailings include; December 1st for 4 nights, December 5th, 12th, 19th or 26th for 7 nights.
7 night Eastern Caribbean Cruise September 25, 2010 From $779 US!
View Royal Caribbean Alaska Cruises
View Royal Caribbean Alaska Cruisetours
View Royal Caribbean Europe & Mediterranean Cruises
View Royal Caribbean Europe & Mediterranean Cruisetours
View Royal Caribbean Mexico Cruises
View Royal Caribbean Asia, Australia/New Zealand & Canada/New England Cruises
Posted by Denise at October 23, 2009 10:46 AM