Celebrity Cruises' Celebrity Equinox to Make Stateside Debut with Rare "Solstice Class Sampler"
Miami - (April 02, 2009 ) - An equinox occurs twice a year, but the opportunity to experience a special four-night cruise on Celebrity Cruises' new Celebrity Equinox will occur only once.
On the heels of her eagerly awaited inaugural season in Europe this year, Celebrity Equinox will arrive in Fort Lauderdale, Florida, November 19, to welcome guests with reservations on the special four-night sailing, which is now open for booking.
"The response Celebrity Solstice has received from the press, our guests and our travel partners since she launched in November has exceeded even our own high expectations," said Celebrity Cruises President & CEO Dan Hanrahan. "We're confident Celebrity Equinox will meet with equally glowing reviews, and think there's no better way to introduce her in the U.S. than with a four-night Solstice Class sampler."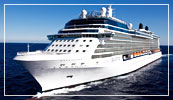 With three tranquil days and nights at sea and a day in one of the most popular ports in the Caribbean - Cozumel, Mexico - the special itinerary offers ample time for guests to experience the series of brand-defining, industry-first attributes associated with Celebrity Solstice, including a half-acre Lawn Club with real grass, a glassblowing show and studio developed with The Corning Museum of Glass, unrivaled dining venues offering trendsetting cuisine and design, and widely varied entertainment, including spectacular new shows in partnership with Poet Theatricals. Like Celebrity Solstice, Celebrity Equinox also will have spacious staterooms and bathrooms, and several categories of accommodations, including Celebrity's spa-inspired AquaClass staterooms.
Celebrity Cruises offers comfortably sophisticated, upscale cruise experiences with highly personalized service, exceptional dining, and extraordinary attention to detail. Celebrity sails in Alaska, California, Canada/New England, the Caribbean, Europe, Galapagos Islands, Hawaii, the Pacific Coast, Panama Canal and South America. The line also offers unique cruisetour vacations in Alaska, Canada, Europe and South America. Noted for four of the top 10 "Top Cruise Ships in the World" in the large-ship category, as voted by the readers of Conde Nast Traveler (February 2009 readers' poll), Celebrity's fleet - including the new Celebrity Solstice - will be joined by Celebrity Equinox this year, Celebrity Eclipse in 2010, a fourth Solstice-class ship in 2011, and a fifth in 2012. For more information, call your travel agent, dial 1-800-738-8837.
Posted by at April 8, 2009 09:16 AM