Celebrity Cruises' Offer Exceptional European Vacation Deals
Celebrity Cruises' New Celebrity Solstice and Celebrity Equinox Present Exceptional European Vacation Deals
Miami - (March 24, 2009 ) - "Celebrity's Solstice Class Celebration" Includes New Travel Agent Incentive MIAMI March 23, 2009 Celebrity Cruises just made its already-enticing Europe cruises that much more irresistible. Beginning today, Celebrity Solstice, the most widely heralded ship to enter the market in 2008, and eagerly anticipated sister ship, Celebrity Equinox, present unprecedented pricing for European vacations on the dynamic duo, along with a special, limited offer: Guests who book any Celebrity Solstice or Celebrity Equinox 2009 Europe cruise between March 23 and April 1, 2009, will receive a discount coupon for up to $500 toward a Celebrity vacation in 2010.
"There has never been a better time to enjoy a European vacation, and no better ships on which to experience it than Celebrity Solstice and Celebrity Equinox," said Celebrity's President & CEO Dan Hanrahan. "When you consider all that these ships have to offer from the stunningly beautiful hotel environment to the spectacular service to the extraordinary cuisine then try to match that combination on land, the value of what we're offering is abundantly clear."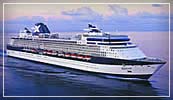 With 10 extraordinary dining venues; a half-acre Lawn Club with real, growing grass; live glassblowing shows; hip nightclubs; distinctive entertainment, and an overall style and design that countless press have described as "dazzling" "breathtaking" and "stunning" Celebrity Solstice and Celebrity Equinox offer enough that guests could be tempted to never get off the ship. But on the line's itineraries featuring some of the most attractive, culturally rich destinations in Europe, they probably will. Among the incredible destinations are Santorini, Mykonos and Athens (Piraeus), Greece; Istanbul and Ephesus (Kusadasi), Turkey; and Naples/Capri, Italy, on Celebrity Solstice?s 10- and 11-night Eastern Mediterranean sailings roundtrip from Rome (Civitavecchia), from May 4 through November 20, 2009. Fares start at $1,249 per person.
Celebrity Equinox, one of the newest ships to sail in Europe, meets "Ancient Empires" on 13-night voyages from August 18 through October 23, 2009, roundtrip from Rome (Civitavecchia), with visits to Naples/Capri; Athens (Piraeus) and Rhodes, Greece; Ephesus (Kusadasi), Turkey; Haifa and Ashdod, Israel, and Alexandria, Egypt. Fares begin at $2,099 per person.
Celebrity Equinox also will present a 10-night "Best of Europe" itinerary departing from Southampton, England, August 8, 2009, with visits to Paris (Le Havre) and Cherbourg, France; Barcelona, Cartagena and Vigo, Spain; Lisbon, Portugal; Gibraltar, U.K.; and Rome (Civitavecchia), Italy, with fares beginning at $2,399 per person.
Celebrity will provide a discount coupon for each stateroom reservation made during the eligible booking window good toward any 2010 Celebrity vacation of seven nights or more in length, with the exception of Celebrity Xpedition cruises and holiday sailings.
Celebrity's Solstice Class Celebration Includes Travel Agent Incentive Travel agents booking eligible sailings during Celebrity's Solstice Class celebration have the opportunity to win a trip for two to attend the naming of Celebrity Equinox in Europe, complete with roundtrip airfare (up to $1,000 per person), or $1,000 in cash. Celebrity will award one winner each in six regions. Every booking made for a Celebrity Solstice or Celebrity Equinox Europe cruise in 2009 will count as one entry, with the booking window running from March 23 April 30, 2009.
The consumer and travel agent components of Celebrity's Solstice Class celebration are applicable to new FIT and Group bookings named and deposited. Winners of the travel agent component will be notified on May 15, 2009. Full details about the travel agent component, including terms and conditions, are available at the company's travel agent web site, CruisingPower. Celebrity Cruises offers comfortably sophisticated, upscale cruise experiences with highly personalized service, exceptional dining, and extraordinary attention to detail. Celebrity sails in Alaska, California, Canada/New England, the Caribbean, Europe, Galapagos Islands, Hawaii, the Pacific Coast, Panama Canal and South America. The line also offers unique cruisetour vacations in Alaska, Canada, Europe and South America. Noted for four of the top 10 "Top Cruise Ships in the World" in the large-ship category, as voted by the readers of Conde Nast Traveler (February 2009 readers' poll), Celebrity's fleet including the new Celebrity Solstice will be joined by Celebrity Equinox this year, Celebrity Eclipse in 2010, a fourth Solstice-class ship in 2011, and a fifth in 2012. For more information, call your travel agent, dial 1-800-738-8837.

Posted by at March 25, 2009 04:04 PM