Hubba, Hubba! Three Celebrity Cruises Ships to visit North America's Largest Glacier in 2009 Alaska Season
Miami - (April 01, 2008 ) - Hubbard Glacier is the reigning beauty in Celebrity Cruises' Alaska, where the breathtakingly rugged splendor of the natural world meets the comfortable sophistication of a top-notch cruise. Guests on all three Celebrity ships that will sail in the region in 2009 will have the opportunity to gaze at the glacier, which is the only advancing glacier in Alaska. Hubbard Glacier is but one of countless must-see sights in the region, and much of Alaska?s coastal magnificence is featured in Celebrity's 2009 season there. Unique cruisetours will afford guests the opportunity to experience inland Alaska, the Canadian Rockies, and Whistler, British Columbia. Celebrity Cruises? 2009 Alaska sailings opened for sale today.
Celebrity Infinity, Celebrity Mercury, and Celebrity Millennium will sail Alaska in 2009, from a total of five ports. The season's cruise highlights include the following:
Celebrity is offering the industry's first roundtrip Alaska cruise out of Los Angeles, with a 14-night roundtrip "Ultimate Alaska" sailing on Celebrity Mercury. The voyage includes visits to five Alaska ports as well as Seattle, Washington and Victoria, British Columbia, on April 27. Immediately following that cruise, the ship will sail a 13-night "Ultimate Alaska" voyage from Los Angeles to Vancouver, also visiting five Alaska ports, among others.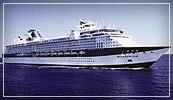 Celebrity Millennium will sail the line's first 10-night roundtrip-from-Vancouver sailing with an "Ultimate Alaska" voyage on September 18, visiting six Alaska ports and one Canadian port.
At the core of Celebrity's 2009 Alaska season is a series of seven-night sailings between May and September that include stunning views of Hubbard Glacier, with the itineraries varying between the three ships.
Celebrity Infinity will depart Fridays roundtrip from Seattle, visiting Juneau and Ketchikan, Alaska, and Victoria, British Columbia. Nearly all of these sailings also feature a call at Icy Strait Point, giving guests the opportunity to experience Alaska's only wilderness port. Adjacent to the largest Tlingit Indian settlement and home to the historic salmon cannery and carefully restored museum, Icy Strait Point offers numerous shore excursions, including flightseeing, whale watching, sport fishing, biking, kayaking, and rides on the world's longest zip line, which measures 5,330 feet in length and includes a 1,300-foot vertical drop.
Celebrity Mercury will depart Sundays roundtrip from Vancouver, calling at Sitka, Juneau and Ketchikan, and cruising the famed Inside Passage, one of National Geographic Traveler's highly rated destinations. In Juneau, the "Taku Glacier Lodge Flight and Feast" excursion lets guests board a floatplane and enjoy 50 minutes of flightseeing over five glaciers before landing at the historic Taku Lodge for a King salmon feast.
Celebrity Millennium will cruise between Seward, Alaska and Vancouver, British Columbia, departing on Fridays, calling at Ketchikan, Juneau and Skagway, and cruising the Inside Passage. In Ketchikan, guests can taste local seafood in an intimate setting with the "Alaskan Chef's Table" excursion.
Celebrity Mercury will reprise its popular 2007 and 2008 wine cruise with an 11-night sailing from Vancouver to San Diego, California on October 12, 2009.
Celebrity Mercury will continue to alternate between three- and four-night Pacific Northwest sailings out of Seattle in September and October, with calls at Nanaimo and Victoria, British Columbia. In Victoria, the "Butchart Gardens, Wine and Chocolate" shore excursion gives guests an introduction to the city's charms, including the renowned Butchart Gardens and a unique wine-and-chocolate-pairing experience at a local winery.

Combining a cruise with a multi-night, land-based journey enhances the Alaska experience. In 2009, Celebrity is increasing its cruisetour offerings. Highlights include the following:
A total of 21 Alaska cruisetours are available to guests sailing seven-night voyages on Celebrity Millennium out of Seward and Vancouver.
In 2009, these offerings include a new seven-night post-cruise tour through Seward, Anchorage, Talkeetna, Denali National Park and Fairbanks, Alaska.
Three Canadian cruisetour journeys (two Canadian Rockies and one Whistler) are available to guests sailing seven-night voyages on Celebrity Mercury out of Vancouver.
A five-night Canadian Rockies package featuring rail travel on Rocky Mountaineers' RedLeaf will visit Calgary, Banff and Vancouver.
A three-night Whistler package features rail travel on Rocky Mountaineers' Whistler Mountaineer Coast Classic and visits the 2010 Winter Olympics sites of Vancouver and Whistler.

To learn more about Celebrity's 2009 Alaska and Pacific Northwest cruises and cruisetours, guests are encouraged to call #1-800-738-8837. Celebrity Cruises offers comfortably sophisticated, upscale cruise experiences with highly personalized service, exceptional dining, and extraordinary attention to detail. Celebrity sails in Alaska, Australia/New Zealand, California, Canada/New England, the Caribbean, Europe, Galapagos Islands, Hawaii, the Pacific Coast, Panama Canal and South America. The line also offers unique cruisetour vacations in Alaska, Australia, Canada, Europe and South America. Noted for "The Top Cruise Ships in the World," as voted by the readers of Conde' Nast Traveler (February 2008 readers' poll), Celebrity's current fleet will be joined by Celebrity Solstice in 2008, Celebrity Equinox in 2009, Celebrity Eclipse in 2010, and a fourth Solstice-class ship in 2011.

Posted by Denise at April 4, 2008 08:38 AM